WPvivid Installer is a centralized dashboard plugin for installing and managing all WPvivid plugins. It is required for installing all WPvivid pro features. In this guide, we will see how to install WPvivid Plugins Pro on your WordPress website.
Tutorial 1
Tutorial 1 is for users who have not installed WPvivid Installer on your website. If you have installed it, please skip to Tutorial 2.
Step 1. Download Installation Zip
Log in to your My Account area on wpvivid.com > Downloads section. Click Download button of the WPvivid Installer.

Step 2. Install WPvivid Plugins Pro
Go to your WordPress dashboard > Plugins > Click Add New > Click Upload Plugin and upload the installation zip you just downloaded > Click Install Now > Click Activate Plugin.

Step 3. Activate Your License
On plugin's License tab, enter your WPvivid pro license to activate WPvivid pro plugins. You can find and manage your license from My Account area on wpvivid.com > License section.

That's it. Now you have successfully installed WPvivid Plugins Pro plugin on your website, and you can skip to the Install WPvivid Plugins part.
Tutorial 2
Tutorial 2 is for users who have installed WPvivid Backup Pro plugins.
Step 1. Check Update
On your WordPress dashboard > WPvivid Backup > License > Click the Check Update button.

Step 2. Upgrade to WPvivid Plugins Pro
After that, you will see a update notice on the top of the page if you are not using the latest version of the installer, click Update now in the message or Update pro & install all addons with one click button to upgrade to WPvivid Plugins Pro.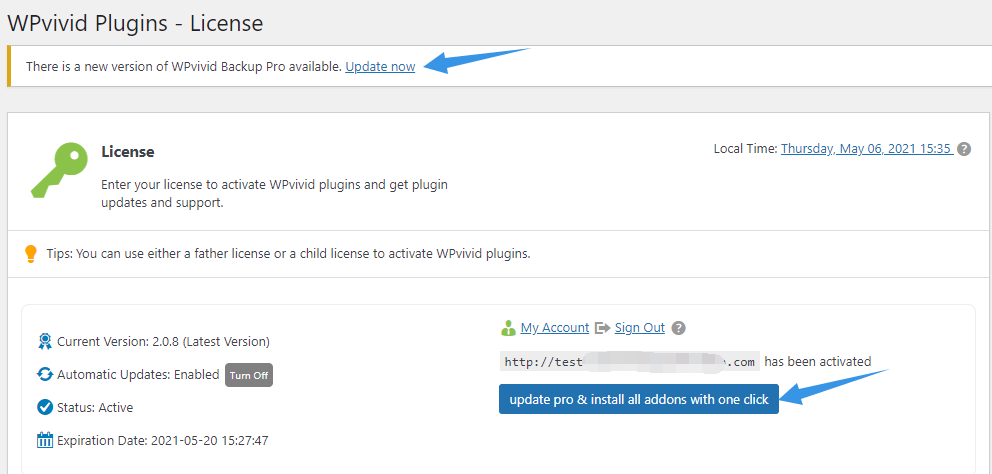 Install WPvivid Plugins
After that, go to the plugin's Dashboard page > Addons/Tools section where you can choose the plugins you want to install and use on the site. You can access the Dashboard page from the left admin menu > WPvivid Plugin > Dashboard.
Here are the docs to help you quickly get start with all WPvivid features. If you get any questions, feel free to submit a ticket or contact us.